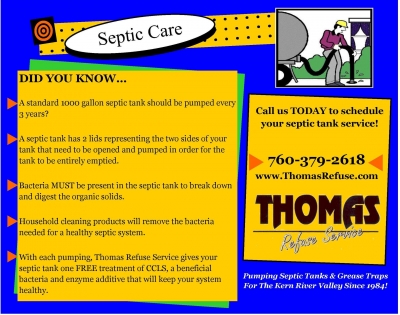 NEW REGULATIONS FOR GREASE TRAPS
Beginning July 2012, grease traps will have to be serviced by designated grease truck per AB 1333. Thomas Refuse Service is able to haul both sewage and grease for the Kern River Valley. We can also steam clean your grease traps to eliminate the built up grease along the walls.
To view the entire regulation on seperate hauling of grease and sewage loads, please see the link at the bottom of the page.
SEPTIC CARE GOES BEYOND THE PUMP
Septic systmes rely on healthy bacteria in order for the system to operate efficiently thus preventing frequent pumping or the possiblity of a backup or leach line failure. Every time you have your septic tak pumped by TRS, we will feed your tank with a FREE one quart dose of CCLS. We recommend monthly treatments of CCLS to maintain the needed healthy bacteria and keep your septic system functioning properly.
We carry a number of different products to assist in the overall performance and maintenance of your septic system. All of our products may be purchsed in office or over the phone. Shipping is also available to our customers outside of the Kern River Valley.
If you have questions regarding the products or pricing, please email us at info@ThomasRefuse.com or call us at 760-379-2618.
CCLS
Bio-Rem-ED
DrainMaster
Roebic Foaming Root Killer
Roebic K-77 Root Killer (granule)
After Shock

Special Order Items:
Resources
AB 1333 Sewage/Grease Trap Service Regs
download/view
Please download to view complete details regarding seperate hauling of sewage and grease.